Realtors
The Tailored Solutions you're looking for.
We understand that you need a trustworthy partner who is consistently working to meet the needs of you and your customer. With our real estate title and settlement services and the expertise of our escrow officers we tailor solutions to suit your transaction needs. Clear communication, quick response time and concise closing practices make for a memorable experience that you can rely on. Our escrow officers value relationships and provide the certainty you need for your transactions.
Realtor's Benefits with First American Title Company of Napa:
Single point of contact
Full service on every transaction
Timely and accurate title commitments
Superior communication
Knowledgeable and professional staff
Contract Upload capability or drop off
Success Tools
To help you grow your business we provide online tools to help you succeed and educational resources to keep you and your clients informed. Our expertise is in providing a full range of closing services which we dedicate to making you and your transaction process easier.
Call or email us if you have any questions at
(707) 254-4500 or customerservice@firstamnapa.com.
Choose First American Title Company of Napa on your next transaction and experience a smooth and successful closing.
Connect with an Escrow Officer for a Comprehensive Quote
Our team of professionals are here to help you…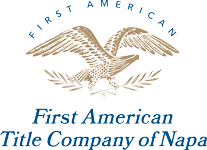 By giving each of our customers' closings the personal attention it needs, and by providing all of the people involved in the transaction with amazing service, we hope to earn your business for years to come!
Main Office
1700 Second St, Suite 120
Napa, CA 94559
San Rafael Office
630 Las Gallinas Ave.,
San Rafael, CA 94903